Maidstone Young Artist Award Exhibition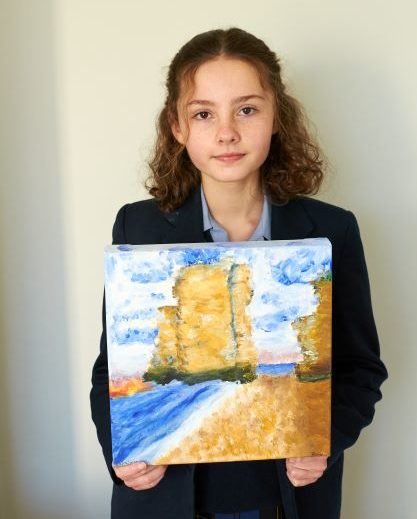 We are delighted to announce that, after submitting her painting 'The Stacks', Grace Manning-Greene (Third Form) has been selected to be part of the Maidstone Young Artist Award exhibition.
The theme of the exhibition is 'The Spirit of Kent', in which Grace has captured an iconic Kent landmark, using acrylic paints on a canvas.
Beautifully depicting the stacks at Botany Bay, Broadstairs – Grace's previous hometown before moving to Sutton Valence – she wowed the selection panel with her creative piece. The exhibition will be held at Maidstone Museum from Saturday 30th April to Saturday 9th July. The winners of the exhibition will be chosen by four judges, led by Lord Sackville of Knole House, Sevenoaks.
Mr Thompson, Head of Art, commented "I know this beach really well, and Grace has captured the structure of the stacks and surrounding elements beautifully!" and Mrs Sutton, Teacher of Art, added, "This is excellent news! Congratulations Grace – I love the expressive surfaces and colours. I will keep my fingers crossed for the 29th April!".
You can read more about the exhibition below: https://museum.maidstone.gov.uk/whats-on/events/maidstone-young-artist-award-2021/.