Kent U13 Tier 1 Tournament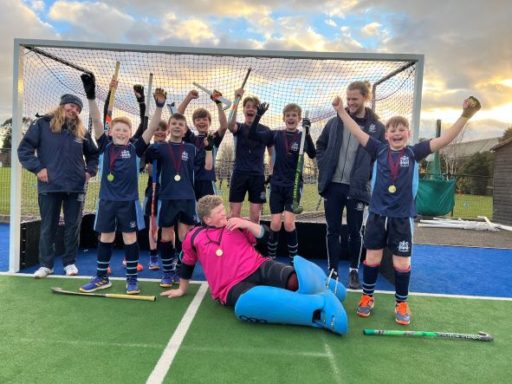 Following the success at U12 In2Hockey tournament on Monday 31st January, the U13s – including five members of the U12 team – travelled to Kent College, Canterbury to compete for the County cup.
With 13 schools entered in just two pools, we knew that the competition would be fierce and the time between games long! The games were just 12 minutes, so were sure to be frantic, with goals – both scoring them and keeping them out – to be key.
The U13s got off to a great start, beating The Harvey Grammar School 3-0, but following a few games off, drew with familiar foes Kent College (who the team had beaten in the final on Monday!) with both sides equally competitive. In their third game against Eltham College, the squad soaked up lots of pressure and scored a marvellous counterattack goal, from Wian Botes (First Form) on the back post, to win 1-0. Following another long break, a lethargic performance lead to a 0-0 stalemate with Simon Langton Grammar School for Boys. However, the U13s found their groove again in the final group game, beating Sir Roger Manwood's School 2-0 – including a spectacular solo goal from Jack Dyas (Second Form).
In the quarter-finals, the U13s struggled to break down a resolute St Edmund's School side and drew 0-0. After three penalty strokes each, the score was still 0-0 and the order was reversed, with St Edmund's School now going first. Luckily, our goalie Maxim Ongley-Dellar (Second Form) was in spectacular form, saving all of St Edmunds shoot-out attempts. Wian Botes (First Form) then stepped up to tuck his penalty strike into the bottom left-hand corner, sending SVS into the semi-finals and one win away from regionals.
In the semi-finals, the U13s faced St Lawrence College, whom they had beaten 10-0 only nine days ago. This was never going to be such a one-sided affair, with St Lawrence showing excellent improvement, penning SVS back in their own half for much of the 12 minutes, but the SVS defence, including Charles Agnew (Second Form) and Nathan Calverley (First Form), held strong. Thankfully, after a couple of close misses, Cian Nelson (First Form) was able to beat his man and slip it past the keeper, putting SVS into the final, and the regionals, winning 1-0.
The final was a repeat of Monday's tournament, with SVS facing Kent College, Canterbury. In contrast to Monday's 4-3 thriller, this final was one for the purists, with both sides moving the ball around freely, with chances aplenty for both sides. With Seb Harmer (First Form) running the game from midfield and Gus Gouldstone (First Form) tackling anything that moved, SVS maintained control. Then, after a superb through-ball from Oliver Messer (Second Form), Cian beat the goalkeeper to put SVS ahead.
The boys held strong, with Maxim keeping them well organised throughout, and saw the game – and the tournament – out without conceding a goal!
Well done to the boys for an excellent day, we are all thoroughly looking forward to regionals!