Celebrating Cultural Food
In preparation for October's Language of the Month, Nepalese, the SVS kitchen staff have been busy preparing a Nepalese dinner for our boarders to experience the wonderful food from this culture.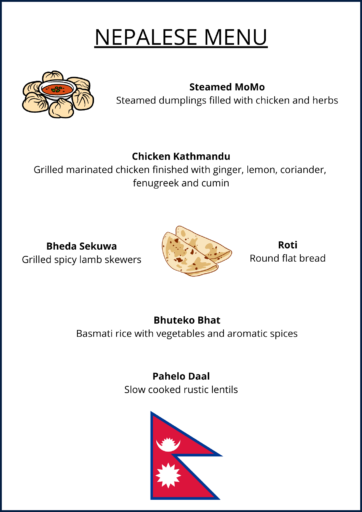 Set against the backdrop of the Himalayas, the people of Nepal have many different backgrounds and ethnicities, and this multitude of influences is reflected within the country's cuisine. Nepalese dishes are generally healthier than most other South Asian cuisine, relying less on using fats and more on chunky vegetables, lean meats, pickled ingredients and salads.
Whilst Nepal does take heavy influences from its closest geographical companions such as India, China and Tibet, this mountainous country only opened up its borders to outsiders in the 1950s. This factor, in addition to transport and the trade difficulties of Nepal's geographical setting, has maintained a focus on using locally-grown produce.
Common ingredients found across Nepalese cuisine include lentils, potatoes (which are particularly popular within the Newar communities in the Himalayas and Pahar region), tomatoes, cumin, coriander, chilies, peppers, garlic and mustard oil. Yoghurt, or dahi is popular across Nepal, and is eaten for its healthy attributes and adaptable nature, as it can be used as a side dish or as an ingredient in drinks (Lassi) and desserts (Sikarni). While establishing a group of foods that are distinctly Nepalese is no easy task, there are some dishes that are mainstays when visiting the culturally diverse Nepal.
Rice is the obvious staple for many Nepalese dishes, just like many other Asian countries. The fried rice dish of Pulao (also know as Pilaf and Pilau) is popular with locals and visitors. Vegetable pulao in particular can be found throughout Nepal, and consists of fried rice with vegetables which have been lightly seasoned with turmeric and cumin. Accompaniments to the dish can vary from yoghurt to papadams, and the subtle flavours brought out by the fragrant rice means the dish is a regular feature at social events and times of celebration within the country.
Momo are Nepal's version of dumplings, and usually contain steamed vegetables or meat. Momo are usually accompanied by one or two dips, often with a tomato base or fermented vegetables. Condiments in Nepal are sometimes quite spicy, and often contain raw chili and garlic. There are some interesting variants of momo, with fillings involving cheese (paneer or chhurpi) or potato. For the most flavoursome momo, the traditional meat and vegetable varieties are a must eat.