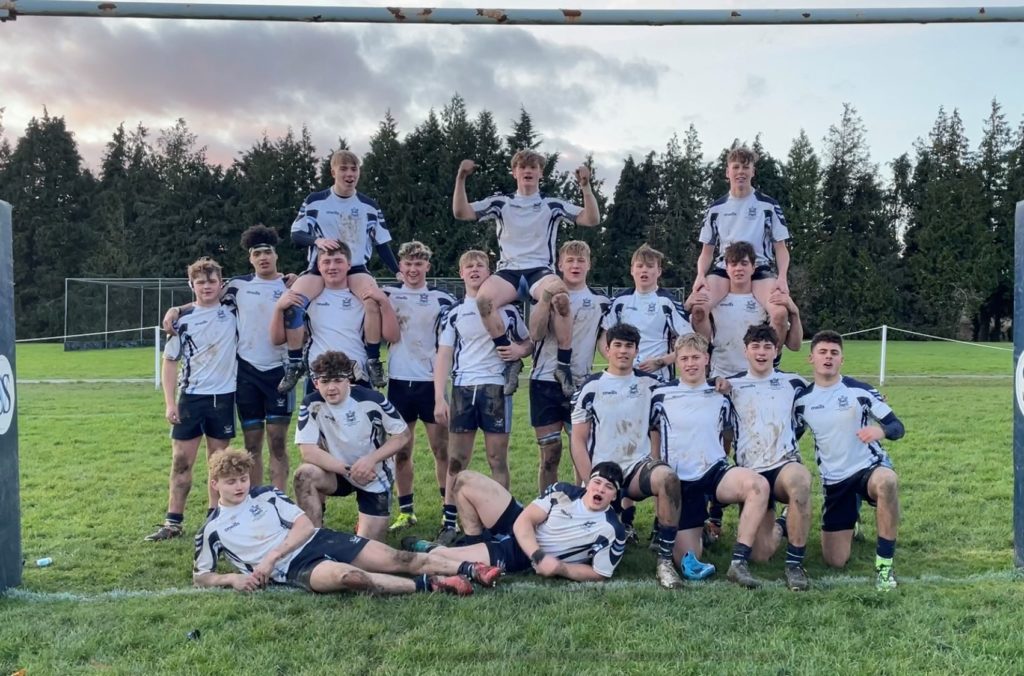 On Wednesday, our First XV Rugby team had a fantastic win against Bristol Grammar School in the Quarter-Finals of the National Vase. Securing their spot in the Semi-Finals, SVS won 24-10 with a stunning display against high-level opposition. Tyler Weekes (Upper Sixth), who captained the squad, has written a match report of the game below:
"On Wednesday, the boys and I were set to play against a strong Bristol Grammar School team who have been equally excellent throughout this competition. Luckily the game was played on home turf, which allowed us to play our game how we knew best, using the crowd to get behind us and spur us on – we knew it would be an exciting game throughout. The squad were excellent in their preparation, with everyone having their kit ready in the morning for when we departed for a team meeting away from School, we talked through our tactics for the backline and forwards as we discussed how we wanted to play.
We were raring to go, and with 40 minutes until kick-off, we were out on the pitch warming up. Having spoken to the referee and their captain, we were going to kick off. We knew this would be in our favour, as we had done lots of kick-off work to make sure we were on top from the beginning. With Jasper Benson (Upper Sixth) executing the kick perfectly and Barnaby Merrett (Lower Sixth) chasing to make the tackle, they were under pressure straight away.
We started on top, with Nathan Michelow (Upper Sixth) and Alfie Jarrett (Lower Sixth) controlling the centre of the field, allowing us to take control of the first half and put pressure on BGS right from the beginning. With a quick turnover ball and slick hands from the backline off the back of the scrum, we were able to put Oscar Vas (Upper Sixth) into the corner for a first try of the game.
They responded quickly with a good kick into our backfield and, with a strong carry from Ethan Wynne (Lower Sixth), we were able to release pressure and win a line-out within their five-meter line. Winning the line-out and securing a good carry through the middle, they, unfortunately, got a turnover and kicked back. With a great carry for Pip Hodson (Upper Sixth), we were able to get back into their 22. After a few phases, Max Lindsay (Fifth Form) was able to slot the ball through their defence and onto their five-metre line, to which we won a scrum from a spill by their 15.
We used this scrum to our advantage, where we had practised many moves within different areas of the field, Nathan picked it up from the back of the scrum and offloaded it to me where I managed to get past their five-metre line – just short of the try line. Amping up the pressure with a quick ball into the outside channel, collected by Nathan who then scored a try in the corner, allowing us to be 12 points up! Oliver Murch (Lower Sixth) added to the score in quick succession. The half ended in a close battle, with BGS sitting confidently on our try line with SVS struggling to release pressure meaning we finished 17-5.
The second half was a dogfight, with a tough battle on our 22 for a lot of the second half. We had to put a huge defensive shift in, with a player down due to a sin bin, we had to battle hard to keep the game in our favour. We did this with mighty form, leaving Bristol struggling to make it to our line on many occasions. Another converted try from SVS and an unconverted try from Bristol meant the final score was 24-10. As the last play was called and I kicked it off the pitch, it was an incredible feeling knowing we had made it to the Semi-Final of the National Vase.
I am extremely proud to be leading such an inspiring team, with the passion and hunger that the whole squad show week in and week out of this competition, which is a fantastic credit to each and every player within the First XV, not just the players that played on Wednesday. We are looking forward to the challenges that lie ahead within this competition."
A big thank you also goes to Troy Bartholet (Upper Sixth), who volunteered his time to be the pitch-side photographer on the day. Using his skills learnt in A Level Photography, he captured some amazing highlights of the game. You can view the photo album here.