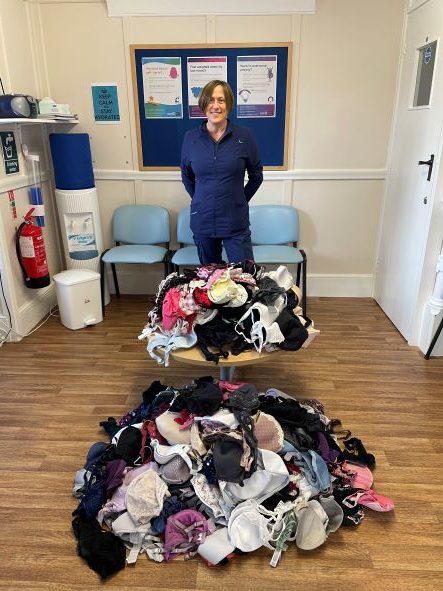 Over the last 18 months, our fantastic nurse, Louise Schembri, has been reaching out to staff to help aid her bra recycling scheme. This scheme takes unwanted or unloved bras, passes them through a network of bra banks which in turn raises vital funds for pioneering breast cancer research.
The same bras also help to support small businesses in developing countries. Together with their recycling partners, the textile recovery project prevents the donated bras from going into landfills – before giving them a new lease of life in countries such as Togo, Ghana and Kenya, where bras remain expensive to produce locally.
Successful ventures like this provide an income for families in developing countries whilst providing employment for people living in the UK. Any bras that are genuinely beyond redemption are dismantled and disposed of properly.
For every tonne of bras collected, Against Breast Cancer receives £700 to fund their research. With over 30 million women in the UK, we could really help make a difference.
Louise said, "I started this venture about two years ago after a very dear friend of mine was diagnosed with Triple X breast cancer – the worse one that you can have.  Watching her go through the last four years of treatment and feeling so helpless, I wanted to do something to help the cause. Research is fundamental in developing new treatments for women and men who are affected by breast cancer. This seemed like such an easy thing to introduce at School with so many women here. Like everything over the last eighteen months, progress was hampered by lockdown but donations started again once School reopened. In total, 300 bras have been donated! I am truly amazed and really thankful to everyone who sorted out their underwear drawer and brought their unwanted bras to me."
For more information on the charity or to set up your own bra bank, please click on the link below.