New Heads of School
Olivia Chadwick and Daniel Booth have been named as the Heads of School for the Summer Term, and attended their first Haedmaster's Assembly in post last week, with Olivia making her debut speech to the student body.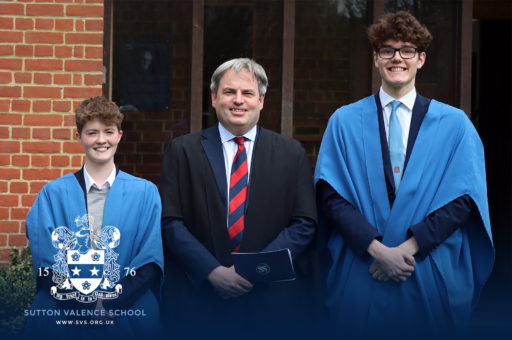 "Good afternoon School, I hope you have all had an enjoyable and restful Easter break, after what was a very busy Lent Term. When I joined in Second Form, I did not expect to be standing here today talking to you all, let alone being one of the Heads of School. Before I start I would just like to thank Mr Thomas and the Senior Management Team for giving me this opportunity. And also a huge congratulations to Dan, I look forward to working with him this term.
My journey at Sutton Valance School started when I tagged along to an open day, when my parents were looking at options for my brother. I was so impressed with the School and the opportunities that they offered, especially the sport and CCF, that I was keen to join as soon as possible, as I knew this school would be the right one for me.
One of the main aspects that I have learnt throughout my years here at Sutton Valence School is to be myself and this is what I want to talk about today. As you can see, I am not your typical girl, but it's 2023, what is your typical girl? To some people this could be someone with long hair and wearing a skirt, but as you can see, I am standing up here as Head Girl, with short hair, wearing a suit and love being a goalkeeper whether it's in football or hockey. I would encourage you all to be yourself and do things that interest you, regardless of other peoples' opinions.
Whilst Covid was a very challenging period of time, it did give me the opportunity to express myself. This was the time when I cut my hair, and I am happy to say that for me it was the best thing I did, it enabled me to be myself and not feel like I had to look like everybody else. As Covid made us all work from home it meant that we could wear what we wanted, so when I knew that school was re-opening, I wanted to make a change to the School uniform so that girls had the opportunity to wear trousers.
It was a very long process, with countless meetings with Mrs Rose and Mr Sealy and going to multiple shops to try find some trousers that I thought would be suitable with the current uniform. Eventually we found a pair that ticked all the boxes that we were looking for. I was extremely happy when I saw that the 2021 uniform list included girls' trousers. I really felt like I had made a change to the School, and that other girls didn't have to worry about wearing the skirt as they could express themselves wearing the trousers. If there is something you care or are passionate about, don't give up no matter how long it takes, as the benefits in the end will be worth it.
We are all lucky enough that this School's environment is the right environment where we can all be ourselves, and this is something that myself and many others are grateful for. There are two main areas within the school that I feel stand out personally to me. These are the sports department and the CCF. Both have motivated and pushed me to be the best version of myself, even on CCF trips where it has been pouring down with rain or after a heavy loss in a sports fixture. So a massive thank you to all the staff in these areas. School offers lots of opportunities whether it's sports, music or academics, it doesn't matter what it is, just focus on yourself and take all the opportunities that come to you.
As you can tell being yourself is important for me, and sometimes it's not easy and it does take time, but regardless of other peoples' opinions it is the best thing you can do. I can honestly say that this School has shaped me into the person I am today and has helped me to build the resilience and courage that a younger version of myself would not have thought was possible. So a massive thank you needs to go to my friends and family and those in the school community who have helped me and been there for me, throughout my years at Sutton Valence School.
As tradition, I will end with a quote. Mary Earps, the England and Manchester United goalkeeper, said when she was collecting her FIFA award for the being the 2022 Best Goalkeeper of the Year, 'be unapologetically yourself'.
Thank you for listening."