In2Hockey Kent Tournament 2022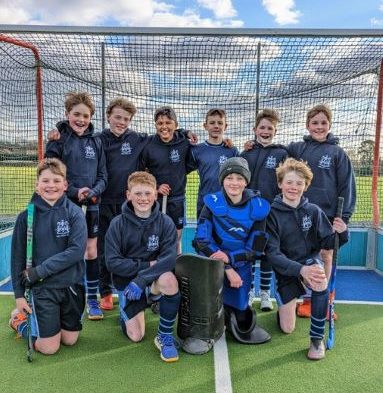 Congratulations to our Boys' Hockey U12 team for winning the In2Hockey Kent tournament on Monday 31st January. A short report of the day from Mr Braddick, Head of Hockey, can be read below.
"With the First Form boys showing a real appetite for Hockey, we decided to enter the U12 In2Hockey tournament. The squad made a great start to the tournament, winning all four of their group games and only conceding four goals.
In the Quarter-Final, we beat Simon Langton Grammar School for Boys and, most importantly, without conceding a single goal! We then played The Skinners' School in the Semi-Final, and despite a slow start, the team won 3-0.
In the Final, we faced Kent College Senior School, who, like us, hadn't lost yet and nor were they conceding many goals!
The boys raced ahead into a 4-0 lead following some great Hockey skills and efficient finishing, however, the boys decided to make a game out of it, allowing Kent College back into the game with three goals of their own. Fortunately, time was on our side and the score finished 4-3 to SVS.
A fantastic day of Hockey, with lots learnt by all!"
Well done to Teddy Amsbury, Wian Botes, Nathan Calverley, Hugh Elms, Xavier Elms, Gus Gouldstone, Aaryan Haque, Seb Harmer, Max Jarvis and Cian Nelson (all First Form).
Results from the day:
3-0 v Ashford School
1-0 v The New Beacon School
3-2 v Gravesend Grammar School
3-0 v Sir Joseph Williamson's Mathematical School
Quarter-Final: 2-0 v Simon Langton Grammar School for Boys
Semi-Final: 3-0 v The Skinners' School
Final: 4-3 v Kent College Senior School
Congratulations to all that played!