Frank Mason Memorial Tournament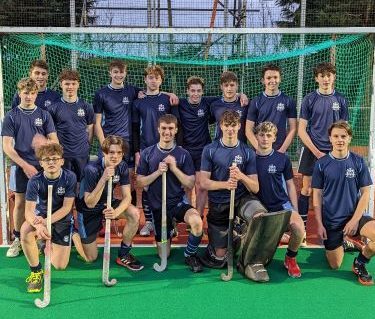 On Thursday, the 1st XI Boys' Hockey team travelled to Canterbury to compete in the prestigious Frank Mason memorial tournament.
Mr Braddick reports on the day below:
With 17 other schools entered, we anticipated a high standard of hockey and we were not disappointed. There were four pools and four different venues, with the top two schools from each pool going into the cup round, and third and fourth moving into the plate round.
Following a slow start, the squad struggled to get into their groove and finished third in the group stage.
A lengthy and enjoyable lunch break (thanks to the delicious packed lunch provided by our amazing Catering department) meant the boys were rejuvenated and ready to take on the plate competition.
It was in the knockout stages that the team finally rallied and brought their hockey skills into play as they began to move the ball around, trusting one another and moving the opposition, whilst also defending with resilience as a solid unit.
Three wins and three clean sheets later, the 1st XI finished victorious in the plate competition.
Well done to all involved!
Squad:
Gus Chatterton (Lower Sixth)
Jack Ennis (Lower Sixth)
Lorcan Hanna (Lower Sixth)
Jonte Hillier (Lower Sixth)
Joshua Laird – Captain (Upper Sixth)
Samuel Laird (Fifth Form)
Jake Lancaster (Upper Sixth)
James Lumsden (Upper Sixth)
James Pepler (Lower Sixth)
Freddie Rigby (Upper Sixth)
Jonny Russell – Vice-Captain (Upper Sixth)
Joe Savage (Upper Sixth)
Charles Taylor (Fifth Form)
Jack Walsh (Fifth Form)
Charles Wood (Lower Sixth)
Results
Group stage:
1-0 W v Duke of York's Royal Military School
0-0 D v The King's School
0-3 L v Tonbridge School
Quarter-Final:
2-0 W v The Skinner's School
Semi-Final:
1-0 W v Sir Joseph Williamson's Mathematical School
Final:
1-0 W v Cranbrook School