Girls' U15 Cricket Festival 2022
On Monday 23rd May, the SVS Girls' U15 Cricket team travelled to Hurstpierpoint College to compete in the U15 Annual Girls' Softball Cricket Tournament. There were six schools competing in total with each team starting on 200 runs. Miss Jelfs, Head of Girls' Cricket, has reported on the tournament below:
Our first game was against Hurst 2. We batted first and racked up a total of 283 with some excellent hitting from the squad. We bowled nice and tightly, keeping Hurst 2 to only 247 – our first win of the day.
Next, we faced Burgess Hill and this turned out to be a close game. SVS fielded first in this game and managed to keep Burgess Hill to 241. We started slowly in our batting and struggled to gain momentum, losing a few wickets in one over. However, some superb hitting from Darcy Hanna and Freya Gutteridge (both Fourth Form) saw SVS clinch the win with 253.
We then played Hurst 1, which turned out to be another very close game. We batted first and managed to reach a score of 264. Hurst then came out strong, scoring many boundaries but finished on 255, resulting in another win for SVS.
Our penultimate game was against Eastbourne College. We batted first and scored a total of 297. Eastbourne College struggled to get runs due to our tight bowling attack and ended on 231. Another great game was won by our girls.
The final, and by far the toughest, game of the day was against Wellington College. They batted first and scored a total of 277. SVS had difficulty trying to reach this target and, even with their best efforts in the final overs, SVS were unable to beat Wellington ending with a score of 249 – the only loss of the day.
The final standing meant SVS, Hurst 1 and Wellington were tied on points, so the final result came down to runs scored throughout the day. By two runs, SVS scored the highest, making them the overall winners.
An outstanding effort from all the girls, they should be very proud of their performances.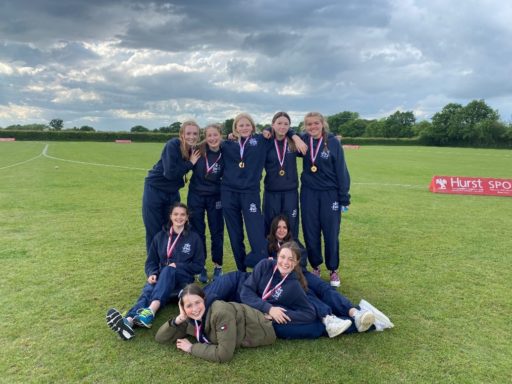 Team: Lettice Allchorne, Olivia Bruce-Lockhart, Charlotte Codd, Mathilda Featherstone, Freya Gutteridge, Darcy Hanna, Rosalie Parsons, Elizabeth Penfold and Matilda Semmens (All Fourth Form)